You need to get the budget down but you don't want to sacrifice style. By using our custom castings instead of hand forgings you can save as much as fifty percent or more depending on the design.
There are no compromises when you use our panels. We design each casting specifically for you so that you get the design you want and the sizes you need.
Face it, times are tough and even well-off clients need to save money.
Hand forged ironwork
can eat up a huge chunk of the construction budget. That's where we can help. Our cast panels have the look of hand forgings with out the high cost.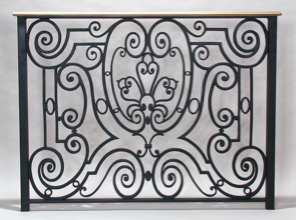 Whether it's a single walkway gate or the grandest of entrances our panels can be the difference between getting the look you want or having to settle for catalog components.
Designing ornamental metalwork can be a challenge. Our Resources page has links to some amazing iron work idea books. Many of the designs here have been adapted from them.

Check out our Gallery and Resources pages or if your feeling "geeky" take a look at The Process page. You'll soon see that Custom Cast Ornamental Panels may be the solution to your custom ornamental ironwork needs.
We can also supply detailed approval drawings. These drawings are made from the same CAD drawings used during manufacturing so there are no surprises with your clients.